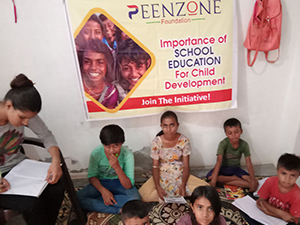 Education is our right- it is the foundation of the socio-economic development of the country and can be considered as the most important investment for progress.
Education is our right is a national level program of Peenzone Foundation, an NGO for education committed to provide basic education and healthcare to underprivileged children.
Peenzone Foundation's educational initiatives include pre-school, non-formal education, remedial education, computer education and bridge courses. It is an NGO which works for underprivileged children, child labour, poor children, HIV infected and affected children, runaway children, rare disabled children, disaster affected children, children living in slums, girl child education and women education To empower them and their future.
Peenzone Foundation Gramin Education Centre.
1.Government School Rajadand road, Garniya Jodhpur. (Manisha Chaudhary)